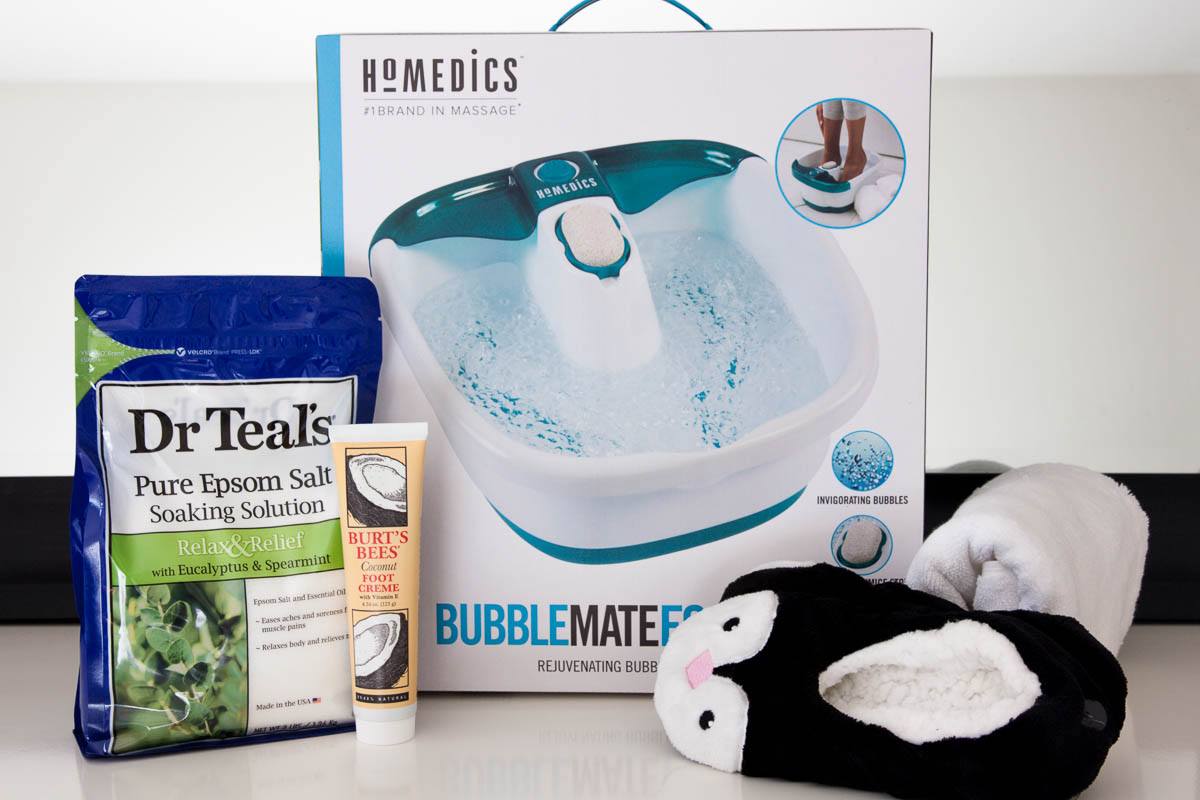 Building gifts around a theme is great. It allows you to gift both something physical (keep it practical though!) and some type of experience to enjoy as well.
As Secret Santa for my friend who now walks a lot for her new job, I put together a couple of items so she can treat herself to some R&R after long work days.
What's inside the box
Everything was from Target:
Homedics Bubble Mate Foot Spa
Dr Teal's Pure Epsom Salt (eucalyptus & spearmint)
Nate Berkus towel
Burt's Bees Coconut Foot Creme
Super cute penguin slipper socks
Our budget was a bit higher this year but the best thing about themed presents is that there are so many options, whether your budget's $10, $20 or whatever. And you don't even need a foot spa massager/machine (I'm not sure how well the Homedics one works – I think they all break over time so if you get one, make sure the store or brand has good exchange policies). A nice alternative is Target's $1 rectangular dish pan that lots of Amazon reviewers use for foot soaking.
Quick tip: always check for lower prices at other stores to get a price match. I've also found that the same item is often cheaper on target.com (they really should reward in-store customers for the foot traffic..).
Alternative options
Here are other items you can use to put together a pamper-themed Christmas gift set. It also works for birthdays, Valentine's Day, bridesmaid boxes, baby showers, etc.
Wrapping presents is half the fun (sometimes). I'm a huge proponent of alternative gift wrappings – wrapping paper is such a waste and so bad for the environment. The blue gift box is from Anthropologie (which I use to store craft supplies) and the lined paper is free leftover wallpaper from a local reclaimed fabric store. The two boxes come together so perfectly!