It's been quite some time since I've done a DIY. After moving to a new home (and country), I've accumulated a laundry list of project ideas that have not been actualized. This first one hopefully motivates me to tackle the others soon.
Initially, I had wanted a real marble coffee table until the price tags convinced me otherwise. But thanks to the brilliant Lizzi and Gary, an IKEA cardboard box coffee table was assembled (along with many other move-in pieces by them!). It supported pizza boxes that night and – probably to their dismay – remained in my living room for the next 7 months.
The cardboard coffee table sufficed and also doubled as a cat cove for Cori. In the exact words of my dad: 蛮好的 (it's pretty good); just keep it.
However, an upgrade opportunity arose when I spotted a free glass coffee table outside of my building. It wasn't pretty but it had potential. I lugged it home and bought a roll of self-adhesive marble film from Amazon. I thought a dark black color would contrast the living room furniture nicely and the gold marbling effect would compliment the existing decor.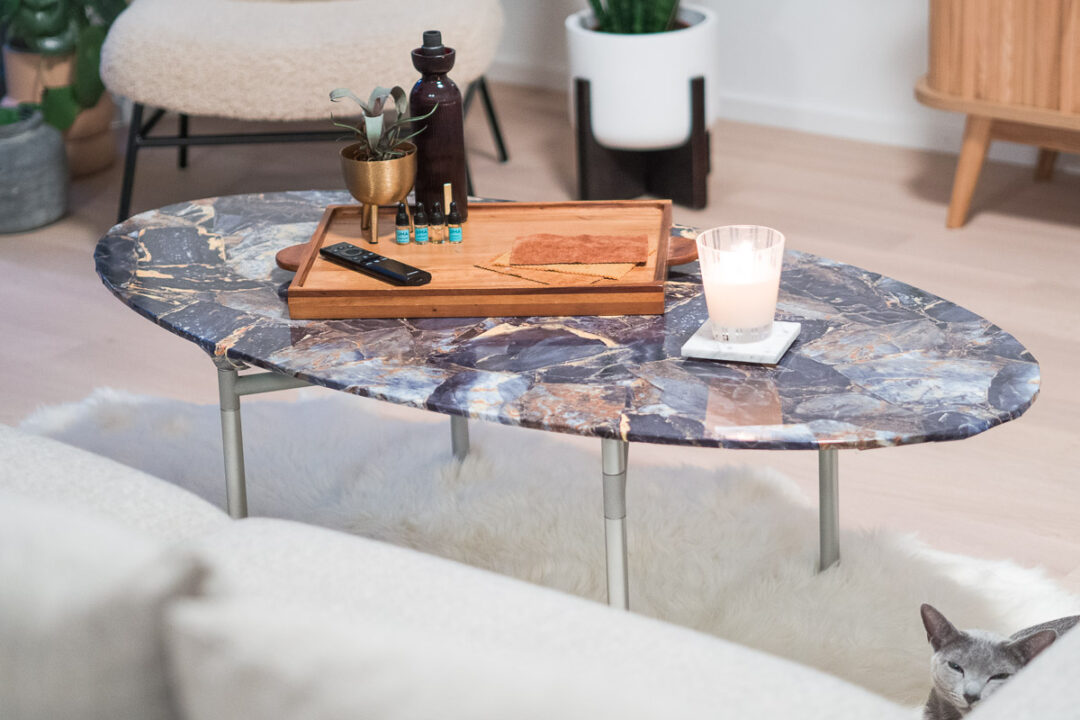 The DIY took probably only an hour – though air bubbles on one side give away my impatience towards the end. Also, the edges were quite difficult to stay put, so I reinforced them the next day with lots of masking tape. All in all, it was a simple DIY project that turned a 90s glass coffee table into something a bit more modern. Bigger plans to spray paint the chrome legs matte black were scratched (aka can't be bothered).
I'm happy with the color choice. I try not to look at the air bubbles.